My Quick Trip To San Francisco
I had a lovely weekend full of great company, beautiful sights, fantastic weather, lots of hikes, and best of all, amazing food. I wanted to share some of my trip with you guys, as well as offer some amazing recommendations that were recommended to me! Here is a summary of my trip, hope you enjoy.
Friday
I drove up the 101 in California, the more 'scenic' highway that runs up and down the coast. I left early Friday morning and was told to stop in Santa Barbara to get some ice cream at McConnell's Fine Ice Cream in SB. Funny story. I arrived to the ice creamery at 10:30AM, and to my dismay, they were closed and not to open until 12 pm noon. I was so pretty bummed, but when I looked closer, I saw some employees inside taking pictures of ice cream. They noticed me lurking... and opened the door for me. I explained my predicament and they told me that if they could take a picture of me holding up a cone, then I could eat one of their ice cream cones they were photographing for their website. OBVIOUSLY I said YES! I tried their plain chocolate ice cream. It was pretty darn good. Not OUTSTANDING, but definitely refreshing, and it was my first cone of the season, so.... :) #happygirl
Friday Night
On Friday night I hung out with my friend Nick Weiss of Performance Gaines in Palo Alto. Nick and I did some crazy cool workouts together and kicked one another's butts. As soon as I arrived to my session Nick asked me to take off my shoes and told me we were going to work out 'like animals' which I was obviously down for. We got down to the basics, back on our hands and knees, and did bear crawls and crab crawls on the ground, and then we 'sloth crawled' across ropes that hung from the ceiling. Nick was attentive, laid back, and made me feel super comfortable and he event got me to do pull ups! I was totally sore the next day. Nick was an amazing trainer and I kind of wish I lived closer so I could see him on the regular...
Saturday Morning: STANFORD SMOOTHIE BOWLS
On Saturday morning, I held a private smoothie bowl class for some very lucky Stanford Grad School students. We made strawberry date smoothie bowls right on campus together. I showed them how to blend, answered all their questions, gave them step by step instructions, and designed a smoothie bowl for them. We topped our bowls with coconut shreds, pepitas, almond butter, granolee, fresh local strawberries, and walnuts. They were so much fun to build and obviously really delicious. I love teaching classes and sharing my love of breakfast with the world. Smoothie bowls also make the BEST brain food, in my opinion :)
Saturday Evening: TARTINE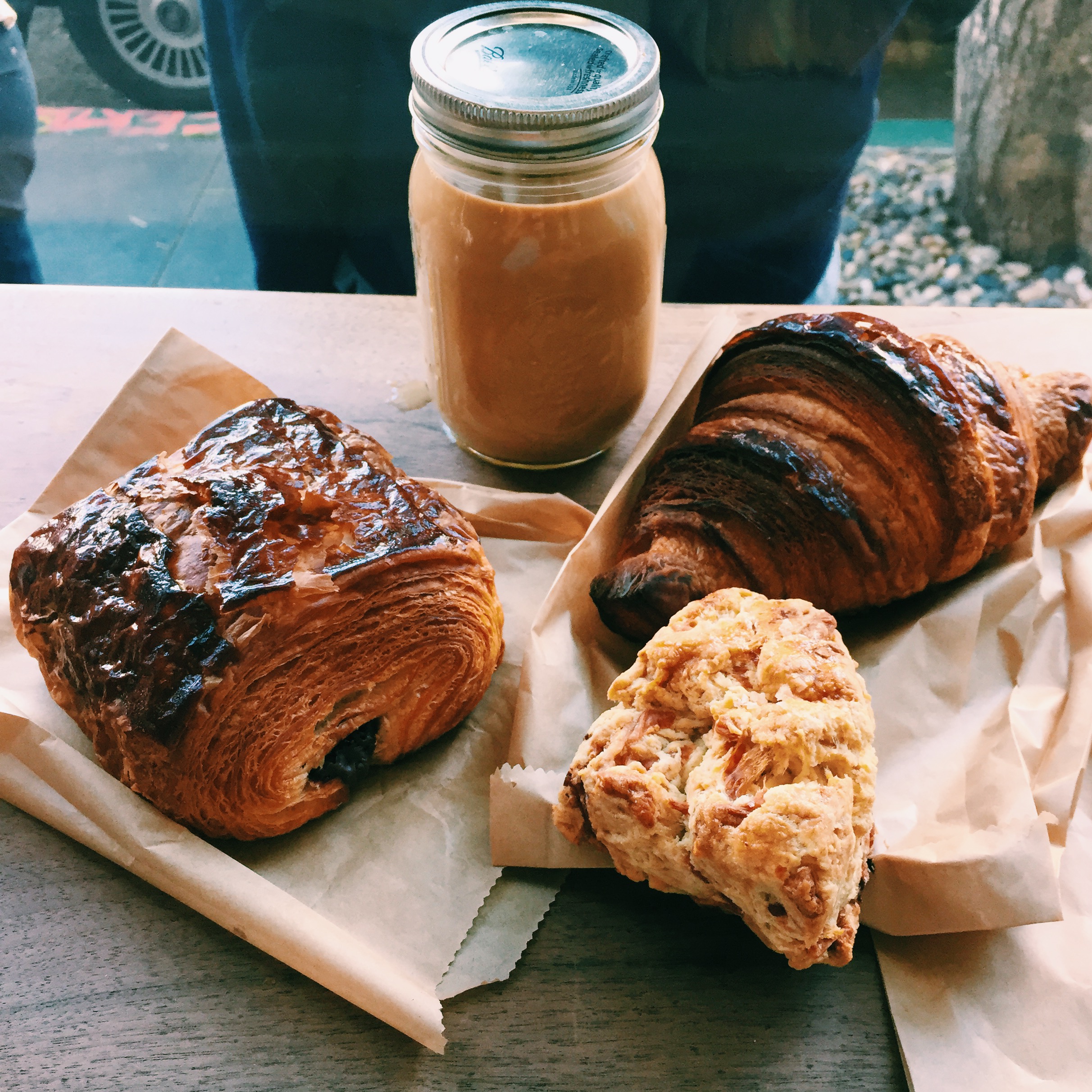 On Saturday afternoon, we arrived in SF and went straight to Tartine Bakery which is in the Mission. Definitely my favorite part of the city. We arrived at 4:00 PM on the nose, 30 minutes before they are finished baking their bread. Apparently this is the best time of day to go, because its when their goods are freshest. The line was long, but it moves swiftly. We waited for 30 minutes and it was worth every single minute. We decided on the croissant, the chocolate croissant, the savory scone, and a croque monsieur to eat in Delores Park, which we did under the cool SF sun on a blanket. Perfect Saturday Afternoon!
PRO TIP: I brought my own mason jar on the trip and asked every place we stopped into to fill my jar for water, coffee, etc. In SF, restaurants were especially pleased by this. I also ended up saving $.25 per drink because they would give me a discount. Definitely bring your own mason jar around when traveling, it makes a huge difference :) There was a pop up recycling post at Delores Park in SF on Saturday, I was so excited. I wish every park had this!
Anyways, the pastries at Tartine were just unbelievable. Some of the best that I have ever had in my recent memory. If you are ever in town, I totally suggest stopping in. The line moves quickly, and the smells that come out of that place are just by god the best smells you have ever smelt. Every pastry is ginormous. They are so deliciously flaky, puffy, butter-y, sweet and savory. When you touch one to break off a piece, you can see the butter ooze out. They are extremely sensual and they spark all 5 of your senses- touch, sight, smell, taste, and sound. Admittedly, my mouth is watering while writing this post. Tartine, I miss you already. And I totally wish I gave my digits to the tattooed gentleman that worked there and who answered my sister's question about where to find water. If you're out there, you know where to find me. I'll be back soon.
Sunday Morning: CAFE ST. JORGE
On Sunday morning, my sister and I headed to Cafe St. Jorge for some light brunch before we went hiking at Purisima Creek. Cafe St. Jorge was so adorable and everything I was looking for in a brunch spot. No lines (I find that brunch lines are over hyped and I am usually too hungry to wait in line first thing in the morning!) lots of character and most of all, a diverse, localized menu with plenty of healthy food options to choose from.
The Cafe is small, quaint, well lit, and still has that undiscovered feeling. Their menu is unbelievable - egg sliders, chia pudding, almond butter toast, stump town coffee. TOTALLY my jam. Not to mention they have little trinkets around the entire space, making it feel even more home-y and sweet. I almost bought a crack cookie but I withheld. Regretting so now!
My sis and I ended up getting the chia pudding with almonds, pepitas, fresh berries, dates and bananas. We also split the chili avocado toast and asked for eggs on top, which they scrambled. I wish they put a fried egg on top instead of a scrambled, but maybe I should have specified that.
The chia pudding was delicious.... the actual pudding itself could have been a bit more flavorful, but I found the toppings to be the best part (isn't that always the case?) I also really appreciated the thoughtful presentation and amazing service the place offered. If and when I go back to SF, I will certainly be returning to Cafe St. Jorge!
I had such an awesome trip and thank you to all who recommended such great places including Mel from Kitchen Mouse and all of my followers!
lee tilghman